Thermophant T TTR31
Temperature switch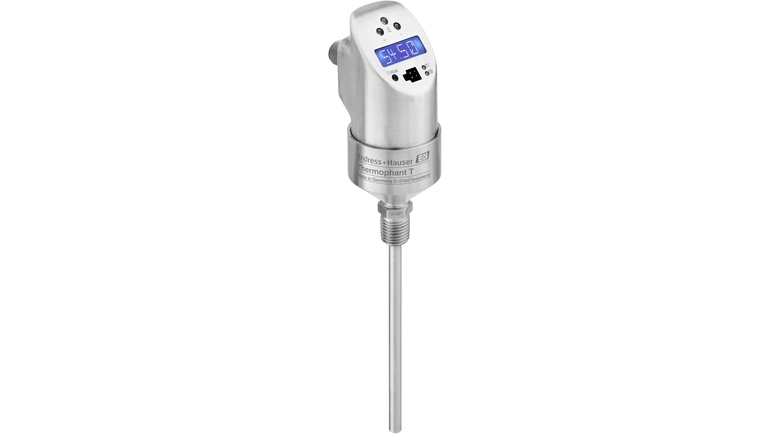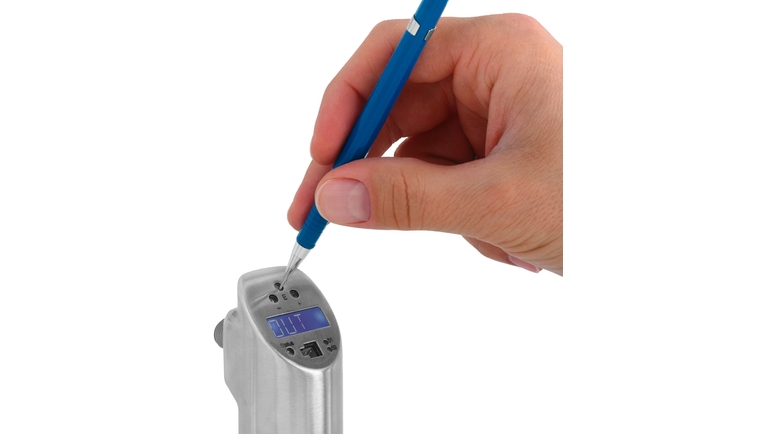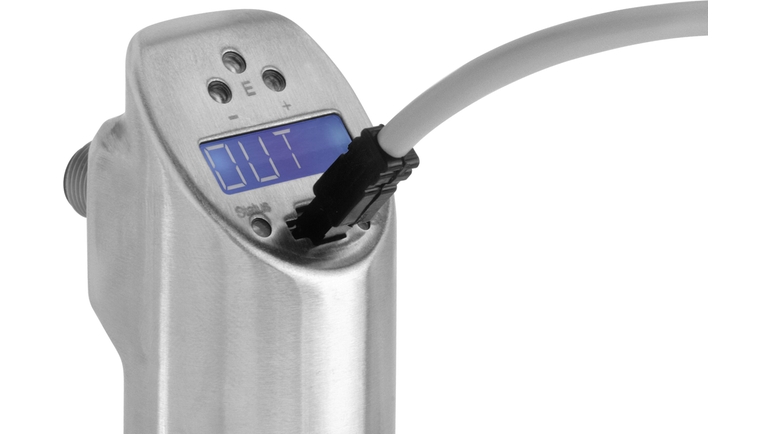 Compact and cost-saving for safe monitoring of process temperatures
Cost efficiency, optimal use of space, reliable operation, easy installation and commissioning indicate modern process measuring technology. The temperature switch completely fulfills these requirements. Designed for the safe measurement and monitoring of process temperatures it can be selected between one or two switch outputs as well as one switch output and one standardized analog output. Vibration-proof integrated thin-film sensors guarantee highest operational safety.
En överblick över specifikationer

Accuracy

-50...75 °C: <0,5 K
(-58...167 °F: <0,9 °F)
75...150 °C: <0,65 K
(167...302 °F: <1,2 °F)

Operating temperature range

-50...150 °C (-58...302 °F)
Snabbval
Välj från de föreslagna alternativen
Individuell konfigurering
Fortsätt välja från alla tillgängliga alternativ
Fördelar

Integrated switching electronics for decentral and economic process monitoring and control

High reproducibility and long-term stability

Function control and information on-site thanks to LEDs and digital display


Long-term stable temperature sensor made...
Applikationsområde

Temperature switch for the monitoring, display and control of process temperatures in a range from -50 to 150 °C (-58 to 302 °F). Thermophant T TTR 31- with thread connections or coupling.

Electronic versions:

One PNP switch output

Two PNP switch outputs

2...
Dokumentation / manualer / programvara
Technical Information Temperature Switch Thermophant T TTR31, TTR35

Temperature switch for the safe measurement, monitoring and control of
process temperatures

Temperature switch Thermophant T TTR31, TTR35 device release: ≥ 01.02.

Temperature switch for the safe measurement, monitoring and control of
process temperatures

ReadWin® Quick Setup

Operating Manual
ReadWin® Quick Setup Temperature
PC Software

Temperature switch Thermophant T TTR31, TTR35 device release: 01.01. - 01.02.

Temperature switch for the safe measurement, monitoring and control of
process temperatures

Temperature Switch Thermophant T TTR31, TTR35 device release: 01.00. - 01.01.

Temperature switch for the safe measurement, monitoring and control of
process temperatures

Short Instruction (KA)

10/04

Mesure de température

Capteurs et transmetteurs pour les industries de process

Verksamhetsområden (FA)

12/19

温度测量

过程工业用温度传感器和温度变送器

Verksamhetsområden (FA)

12/14

Pomiar temperatury

Czujniki i przetworniki pomiarowe
do kontroli przemysłowych procesów technologicznych

Verksamhetsområden (FA)

10/14

Измерение температуры

Датчики температуры и преобразователи для любых
отраслей промышленности.

Verksamhetsområden (FA)

06/13

Catálogo medición temperatura

Termómetros y transmisores para la industria de proceso

Verksamhetsområden (FA)

04/18

Misura della temperatura

Termometri e trasmettitori
per l'industria di processo

Verksamhetsområden (FA)

04/18

Field of activities FA Temperature measurement

Thermometers and transmitters for the process industry

Verksamhetsområden (FA)

03/13

Sıcaklık Ölçümü

Proses endüstrisi için termometreler ve transmiterler

Verksamhetsområden (FA)

03/13

Temperaturmesstechnik

Thermometer und Transmitter für die Prozessindustrie

Verksamhetsområden (FA)

02/20

Temperature measurement

Thermometers and transmitters for the process industry

Verksamhetsområden (FA)

02/20

Измерение температуры

Ключевые особенности термометров Endress+Hauser для нефтегазовой отрасли

Kompetensbroschyr (CP)

08/11

Инженерные решения по термометрии

Специальные решения по термометрии для химической и
нефтеперерабатывающей промышленности

Kompetensbroschyr (CP)

04/10

Catálogo soluciones esenciales

Alta calidad a precios competitivos

Kompetensbroschyr (CP)

01/17

Aluminium Laufen AG Intelligente Wärmerückgewinnung

Um Prozesswärme optimal zu nutzen und damit die Energieeffizienz zu
steigern, entwickelte Endress+Hauser gemeinsam mit Aluminium Laufen
AG ein modernes Steuerungskonzept.

Aluminium Laufen AG Intelligent heat recovery

In order to optimise the use of process heat and to increase energy
efficiency, Endress+Hauser developed jointly with Aluminium Laufen
AG a modern control concept.

E-direct Produktcatalogus 2018-2019

High quality, low price

Endress+Hauser Kataloger (EG)

10/18

Catalogue Produits E-direct 2019/2020 Français

La qualité Endress+Hauser à petit prix !

Endress+Hauser Kataloger (EG)

09/19

E-direct Produktkatalog 2019/2020

Hohe Qualität zum kleinen Preis!

Endress+Hauser Kataloger (EG)

06/20

RTD-thermometer

Produktkod: TTR31-
Deklarationsnummer: HE_00537_01.17
illverkaren Specifikation: RoHS

RTD-thermometer, Process TC Heavy duty, Process TC General purpose, Process TC Explosion proof, Process TC direct in contact, Process TC Direct contact, Process RTD Hygienic, Process RTD Heavy duty, Process RTD General purpose, Process RTD Explosion proof, Process RTD direct in contact, Process RTD Direct contact, Plugs RTD direct contact, Magphant, Low cost RTD General purpose, Industrial Modular Thermometer

Produktkod: TR15-, TR13-, TR12-, TR11-, TR10-, TMT470L-, TMT162R-, TMT162C-, TMT142R-, TMT142C-, TMR35L-, TMR35-, TMR31L-, TMR31-, TM411-, TM401-, TH56-, TH55-, TH54-, TH53-, TH52-, TH51-, TR24-, TTR35-, TTR31-, TST90-, TST602-, TST487-, TST434-, TST41N-, TST414-, TST410-, TST40N-, TST310-, TST187-, TSM487-, TSM187-, TSC310-, TR88-, TR66-, TR65-, TR63-, TR62-, TR61-, TR25-, TH27-, T55-, T54-, T53-, T15-, T14-, T13-, OTR96-, OTR95-, OTR94-, OTR93-, OTR92-, OTR91-, OTR90-, OTR35-, OTR31-, MLTTS01-, MLTTS00-, GPTL-, DTT35L-, DTT35-, DTT31L-, DTT31-, TAF11-, TH18-, TH17-, TH15-, TH14-, TH13-, TH12-, TH11-, TEC420-, TC88-, TC66-, TC65-, TC63-, TC62-, TC61-, TC15-, TC13-, TC12-, TC10-, TAF16-, TAF12T-, TAF12S-, TAF12D-
Deklarationsnummer: EC_00568_01.17

RTD-thermometer

Produktkod: TTR31-, TTR35-
Deklarationsnummer: EC_00350_01.16

Process RTD Heavy duty, RTD-thermometer

Produktkod: TMR31-, TMR35-, TMT142R-, TMT162R-, TTR31-, TTR35-
Region: Russia (TR CU)
Certifieringsorgan: EAC
Godkännande, Nr.: TC BY_112 11.01. TP020 003 143

DIN Rail Transmitter, Field transmitter, head transmitters, RTD-thermometer, Process TC Heavy duty, Process RTD Heavy duty, process displays, power supply and barrier, contactors / transmitters

Produktkod: TMT85-, TMT84-, TMT82-, TMT80-, TMT188-, TMT187-, TMT182-, TMT181-, TMT180-, TMT162-, TMT142-, TMT128-, TMT127-, TMT125-, TMT122-, TMT121-, TMT112-, TMT111-, TTR35-, TTR31-, TMT162R-, TMT162C-, TMT142R-, TMT142C-, TMR31-, TMR35-
Region: Russia (TR CU)
Certifieringsorgan: EAC
Godkännande, Nr.: TC № RU D-DE.AG95.B.00650

RTD-thermometer

Produktkod: TMR31-, TMR35-, TTR31-, TTR35-
Region: Poland
Certifieringsorgan: PZH

RTD-thermometer

Produktkod: TTR31-, TTR35-
Region: Russia
Certifieringsorgan: Rosstandart
Godkännande, Nr.: DE.C.32.004.A NO 53052/1

RTD-thermometer

Produktkod: TTR31-
Region: International
Certifieringsorgan: DNVGL

RTD-thermometer, head transmitters, DIN Rail Transmitter, process displays, Memo-Graph, Field transmitter, Ecograph, contactors / transmitters

Produktkod: TMT85-, TMT162-, TMT142-, RIA14-, RIA16-, RIA45-, RIA46-, RMA42-, RSG35-, RSG45-, TMR31-, TMR35-, TMT84-, TMT82-, TMT188-, TMT187-, TMT182-, TMT181-, TMT128-, TMT127-, TMT122-, TMT121-, TMT112-, TMT180-, TMT111-, TTR35-, TTR31-, RSG40-
Region: Canada, USA
Certifieringsorgan: UL

Ordinary Location Product Safety
Tillbehör / reservdelar
Commubox FXA291 (Hardware)

Serial USB Computer Interface Technical Data: - USB Version1.1 or higher - Power supply via USB - IP51; NEMA/Typ 3 - Ambient temperature: -20....+60oC - Ex: II(2) G (EEx ia) II C - ATEX: BVS 05 ATEX E 095 Scope of deliovery: Commubox FXA 291 MS Windows USB driver Device is submitted for CSA/FM application. The device may not be modified and may be used with intrinsically safe circuits with corresponding characteristics only (see safety certificate).

Gasket DIN7603 A CU 21x26x1.5

Collar welding boss d6 PEEK + screw

moveable with sealing taper, washer + pressure screw G1/2, material of wetted parts: 316L, PEEK, max. Prozessdruck: 10 bar (145 psi)

Collar welding boss d6 PEEK w/o screw

moveable with sealing taper + washer, material of wetted parts: 316L, PEEK, max. process pressure: 10 bar (145 psi)

Cable M12x1 l=5m

5m cable 4x 0.34 mm2, molded PVC angled connector, M12x1 connector screw Cu Sn/Ni, IP67.

M12 elbow plug ready for cable, IP67,PG7

Rubber cap for interface terminal Contains 5 pieces

Compression Fitting TA50

Screw in.

Configuration kit TXU10-

for PC-programmable devices. set-up programme+interface cable for PC with USB-Port.

The unit is not repairable