Cement Production: Focus on what really counts
Easily meet the specific and complex demands of your customers
Facing volatile commodity prices on the one side and complex customer demands on the other, the need for optimized processes within the cement industry has never been higher. Think for example of the energy costs in the clinker manufacturing process, which can represent up to 75% of the variable costs. But to efficiently lower your expenses without compromising the quality of your products, accurate process data derived from reliable instruments is key.
Vårt erbjudande
Whether you are managing a project, automating a fuel handling system, selecting instruments for your clinker process or packaging a NOx gas cleaning solution for your environmental compliance program, our experienced process automation consultants can handle all measurement and control requirements of fully-integrated cement plants:
Clinker burner measurement and control

Automation, storage and control systems for alternative fuels

Cyclone preheater blockage control instrumentation

Crusher and feeder optimization

Maintenance optimization with local support
What you can do
Click through these maps to learn in detail how you can reduce your production costs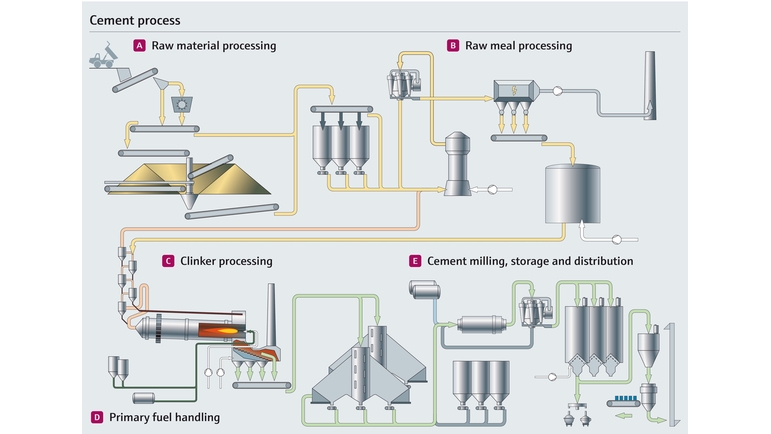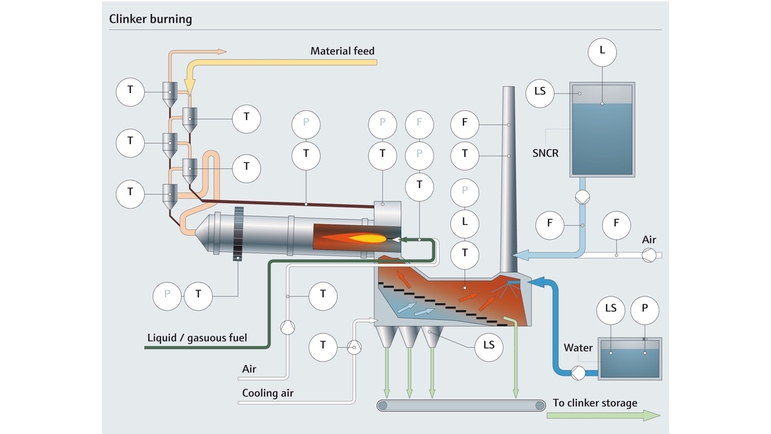 Applications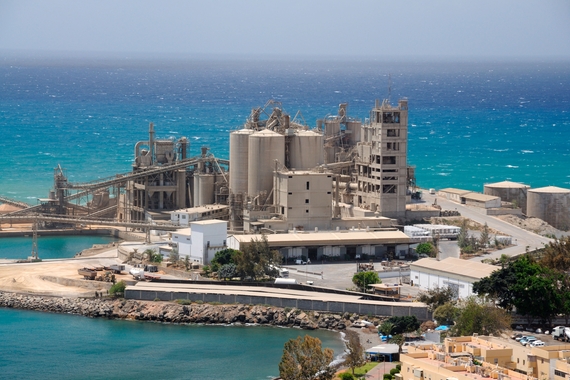 Consistently creating the perfect clinker recipe
Clinker manufacturing is an energy intensive activity and choosing fuels, the right blend of hot gases and optimum burner control affects both the environmental impact and the economics of the process. Total energy cost can represent 65-75% of the variable costs in the process. For effective process control in the clinker production process, optimized measurement packages are essential.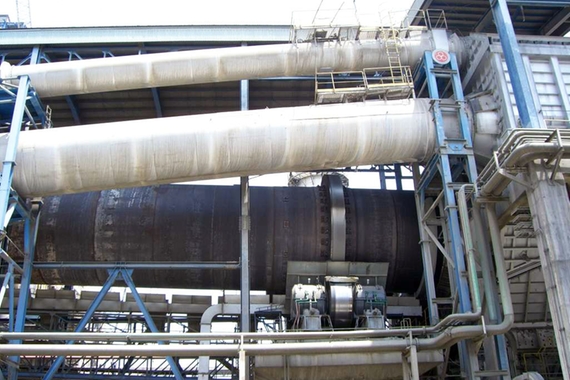 Kiln burner control and fuel oil dosing package
Coriolis meters optimize the burner by regulating the mass flow of oil to the burner and provide the oil heating system with online temperature and viscosity measurements

Boiler and burner monitoring station with stand-alone optimization software

Boiler level and temperature instrumentation

Clinker burner flame pressure and temperature instrumentation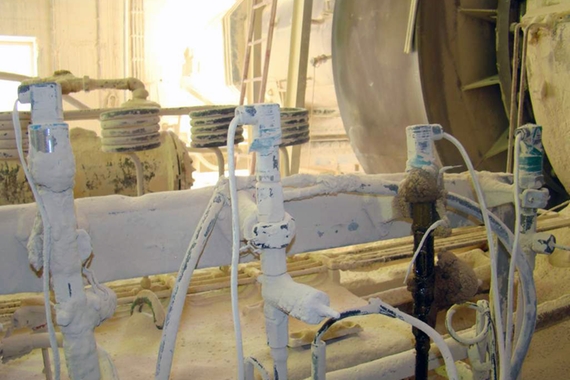 Clinker cooler package
Flow meters for air cooling and high temperature radar level sensors for clinker bed height monitoring to regulate cooler grate speed and air volumes

Online clinker density and free-lime measurement

Non-intrusive blockage sensors for material collection silos under the clinker cooler grate

Non-invasive mass flow measurement sensor system for clinker screw or belt feeders

Temperature sensors and transmitters for tertiary gas pipes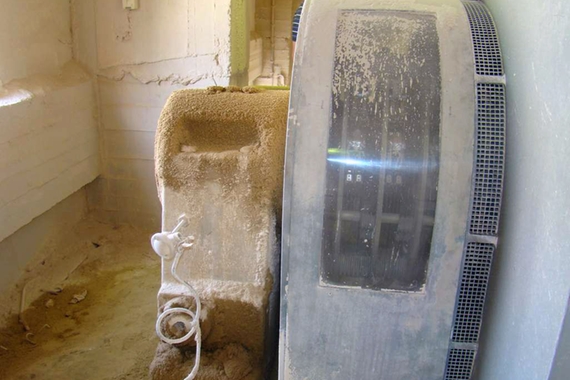 Cyclone preheater control pack
Raw materials feed gas flow rate monitors

High-accuracy, thermal, shock-resistant sensors for cyclone chamber pressure control

Latest in high-tech, abrasion-proof alloy thermocouples with vibration-resistant electronics for long-life temperature monitoring

Non-invasive cyclone buildup and blockage detectors
Fördelar
E+H industry consultants have together with our customers achieved remarkable results and improved plant optimization whilst maintaining high levels of operational safety in many industry sectors like precious metals, cement and steel production. Apart from our technical expertise and the industry optimized product portfolio the basis for such success is our business creed. We believe in building long-lasting relations with customers and not just short term profits.
145,000+

smart level sensors in cement silos worldwide

60+

years of experience in measurement instrumentation

10 million

devices installed worldwide