RNS221
Transmitter supply for DIN rail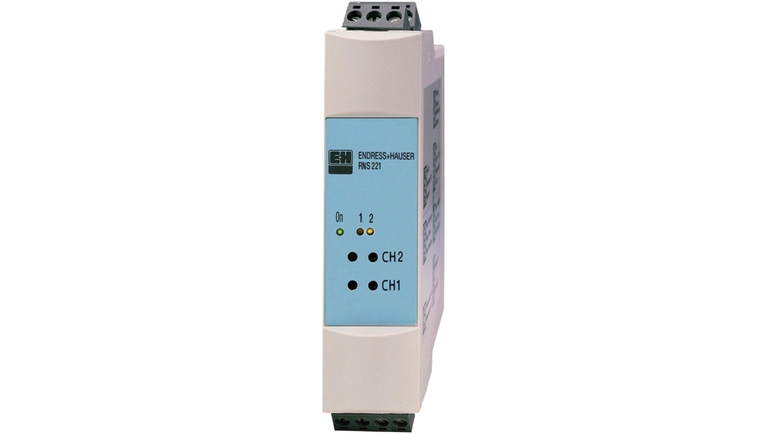 Power supply for two 2 wire sensors or transmitters
The power supply has two galvanically isolated outputs for supplying voltage to sensors and transmitters. A built-in communication resistance enables bidirectional HART® communication with SMART sensors and transmitters.
En överblick över specifikationer

Input

Output

2 x 24V / 30mA
Transmitter power supply

Power Supply
Snabbval
Välj från de föreslagna alternativen
Individuell konfigurering
Fortsätt välja från alla tillgängliga alternativ
Fördelar

Galvanic isolation between all circuits

Sockets and built in 250 Ohm resistor for HART® communication

Wide-range power supply 20 to 250 V AC/DC, 50/60 Hz

Top hat DIN rail mounted housing to IEC 60715
Applikationsområde

The unit supplies two 2 wire sensors or transmitters galvanically isolated. This is only valid for non-Ex areas.
Using the HART® communication sockets bi-directional communication to SMART transmitters, (for setting up etc.).
Dokumentation / manualer / programvara
Transmitter supply RNS221

Power supply for two 2 wire sensors or transmitters

Short operating manual

Short operating manual
Power supply RNS221

Short Instruction (KA)

07/06

Tyska

,

Engelska

,

fr

,

Italienska

Componenti di sistema e data manager

Soluzioni per il completamento del punto di misura

Portfolio Overview System products and data manager

Products and Solutions for completion of the measuring loop

Komponenty Systemów kontrolno-pomiarowych

Wskaźniki panelowe i obiektowe, zasilacze, bariery,
przetworniki sygnałów procesowych, ograniczniki przepięć
oraz przemysłowe liczniki ciepła i przepływu.

Verksamhetsområden (FA)

03/10

power supply

Produktkod: RNS221-
Deklarationsnummer: HE_00651_01.17
illverkaren Specifikation: RoHS

power supply

Produktkod: RNS221-
Deklarationsnummer: EC_00345_01.16

Soliswitch, process displays, Preline, power supply and barrier, power supply, over voltage protector, Mini-Log, Memo-Graph, Ecograph, controller, contactors / transmitters, Configuration Kit

Produktkod: RIA452-, RIA452L-, RIA46-, RID14-, RID16-, RMA42-, RMC621-, RMC621L-, RMS621-, RMS621L-, RN221N-, RN221NL-, RNB130-, RNS221-, RNS221L-, RS33-, RSG35-, RSG40-, RSG45-, RTA421-, RTA421L-, TXU10-, RIA45-, FML621-, FTE20-, FTE30-, FTE31-, HAW562-, HAW569-, OFTE20-, ORIA15-, ORIA45-, ORIA46-, ORMA42-, ORSG35-, ORSG45-, OSG40-, OSG45-, RA33-, RB223-, RDL10-, RH33-, RIA14-, RIA15-, RIA16-
Deklarationsnummer: EC_00569_01.17

power supply, power supply and barrier

Produktkod: RN221N-, RNS221-
Region: China
Certifieringsorgan: ACMA
Godkännande, Nr.: MD-17036A/09/EN

power supply

Produktkod: RNS221-
Region: Russia (TR CU)
Certifieringsorgan: EAC
Godkännande, Nr.: TC № RU D-DE.AG95.B.00535

power supply

Produktkod: RNB130-, RNS221-
Region: Russia (TR CU)
Certifieringsorgan: EAC
Godkännande, Nr.: EAEC N RU D-DE.HB54.B.01233/20
Tillbehör / reservdelar
Set, 10x fixing lever housing

for RMA42x/RMx621/RTA421/RN221N/TMT12x

The unit is not repairable