EngyCal RS33
Steam calculator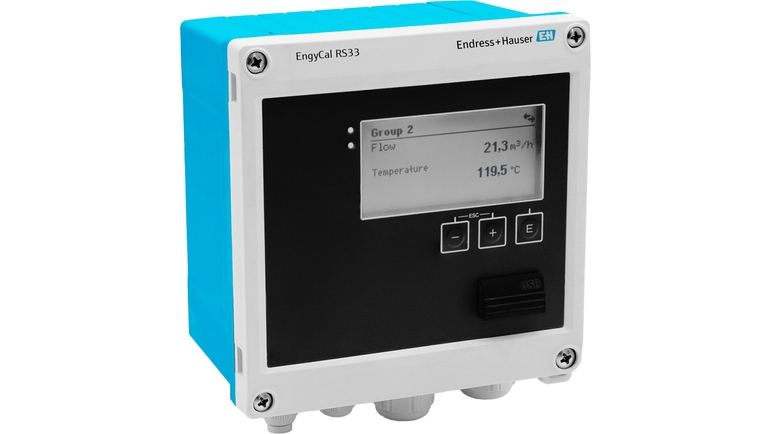 Steam calculator for recording steam mass and energy flow for saturated or superheated steam
The steam calculator EngyCal RS33 is used to record steam mass and energy flow of saturated and superheated steam. The calculation is based on the measured process variables volume flow, temperature and/or pressure.
The EngyCal RS33 uses the standard IAPWS IF97 to calculate the mass and energy flow of steam. The density and enthalpy of the steam are calculated from the input variables pressure and temperature.
En överblick över specifikationer

Input

1x Puls/Analog for flow
2x RTD/Analog for temperature and pressure
Loop power supply 24V DC (+/-16%)

Output

1x 4...20mA
2x digital (Open Collector)

Display

160 x 80 Dot-Matrix LCD with white backlit
colour change in case of alarm event
active display area 70 x 34 mm

Calculations
Snabbval
Välj från de föreslagna alternativen
Individuell konfigurering
Fortsätt välja från alla tillgängliga alternativ
Fördelar

Compensation of differential pressure flow measurement

Calculation according to international water steam tables

Electronic matching of the temperature sensor (sensor-transmitter matching) with the arithmetic unit enables highly accurate temperature...
Applikationsområde

Recording and billing energy quantities in steam applications (steam heat quantity, steam heat differential). Typical applications include:

Food industry

Chemical industry

Pharmaceutical industry

Power plants

Building systems and plant engineering
Dokumentation / manualer / programvara
Tillbehör / reservdelar
RH/RS/RA33 pipe mounting set

RH/RS/RA33 mounting set wall

Terminal strip 3 pole FMC1,5/3-ST-3,5

for digital I/O and RS485

Nr

4

Order code

XPR0001-SP

Small parts set: hinge pin, pressure compensation element, USB-cover, seal panel

Nr

3

Order code

XPR0001-CP

Cover electronic internal for RH33 + RS33 incl. screws (for Mainboard + CPU card)

Nr

2

Order code

XPR0001-UT

Housing lower for Rx33 incl. counter plate (please order name plate separately with DIENST-T)

Nr

8

Order code

XPR0001-KA

Nr

8

Order code

XPR0001-KB

Communication board USB + Ethernet + ModBus TCP

Nr

8

Order code

XPR0001-KC

Communication board USB + ModBus RTU (RS485)

Nr

8

Order code

XPR0001-KD

Communication board USB + MBus (for RH33 and RS33)

Field Data Manager Software MS20

Visualization software and database for visualization of historical data like measured values, calibration or configuration. Manipulation protected SQL database, graphical visualization, tables for measured values, alarms or events, online help, user administration, Automatic read out of device data. Automatic data export in various formats or in secured format for backup or reduction of database. Note: The version FDM essential only supports RSG30, RSG35, RSG40 as well as RSG45 and has a restricted functionality.