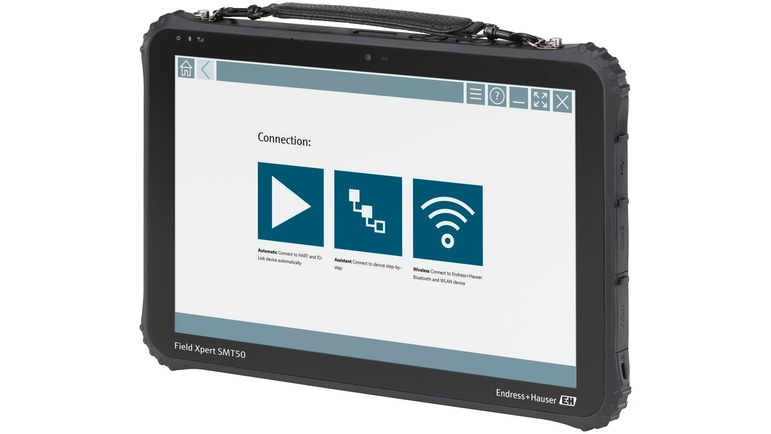 Universal, high-performance tablet PC for device configuration
The Field Xpert SMT50 tablet PC for universal device configuration supports various protocols, the Endress+Hauser service protocols and connection to Endress+Hauser Bluetooth field devices. Field devices can be connected directly via suitable interface, e.g. a modem (point-to-point) or a bus system (point-to-bus) or wireless (WLAN/Bluetooth). The Field Xpert software package is fast, easy and intuitive to use. Its device library has more than 3000 pre-installed device and communication drivers.
Snabbval
Välj från de föreslagna alternativen
Individuell konfigurering
Fortsätt välja från alla tillgängliga alternativ
Fördelar

Robust tablet with large 12" display and a battery runtime of up to 8 hours.

Touch-enabled device configuration software with a direct link to the Netilion Platform for optimized plant asset management.

Pre-installed device driver libraries for all of the...
Applikationsområde

The Field Xpert SMT50 tablet PC for device configuration enables mobile plant asset management in non-hazardous areas. It is suitable for commissioning and maintenance. It manages Endress+Hauser and third-party instruments with a digital communication...
Dokumentation / manualer / programvara
Tillbehör / reservdelar
Microsoft Adapter USB 3.0 to Ethernet

RFID NFC TAG Leser/Schreiber USB

Viator USB-Hart Modem with PowerXpress

PROFIBUS PA license for FieldPort SFP50

License key to activate the PROFIBUS PA connectivity for the FieldPort SFP50

FOUNDATION FIELDBUS license for SFP50

License key to activate the FOUNDATION FIELDBUS connectivity for the FieldPort SFP50

M12 cable for FieldPort SFP20

Cable to connect the FieldPort SFP20 with an IO-Link device

SMT50 - Office Docking Station

SMT50 - Extra batt.high cap.6300mAh ≤8h

SMT50 - Keyboard US Design

SMT50 - Keyboard DE Desgin

FieldPort SFP20

IO-Link USB interface FieldPort SFP20 for commissioning and maintaining of IO- Link measuring devices

FieldPort SFP50

The FieldPort SFP50 is a HART USB and Bluetooth interface to configure measuring devices in combination with he Field Xpert SMT70/77, FieldCare SFE500,DeviceCare SFE100 and further FDT Frames. With additional licenses it is possible to configure as well PROFIBUS PA and FOUNDATION Fieldbus devices. It is useable in non hazardous and hazardous areas.

Field Xpert SMT50

Rugged, high-performance Windows tablet 12.2" Multi-Touch Display for configuration, diagnosis + maintenance of field devices with dig. communication HART, PROFIBUS, FOUNDATION Fieldbus, IO- Link, Modbus + Endress+Hauser service protocols Bluetooth and Wifi based on DTM and EDD technology Device driver libraries for HART and FOUNDATION Fieldbus (iDTMs) and all Endress+Hauser devices are pre-installed Further device DTMs can be installed License: perpetual payware, full version single-station,multi-user,industr. cust. 1 year applicat. software update service