RN221N
Active barrier with optional HART® diagnosis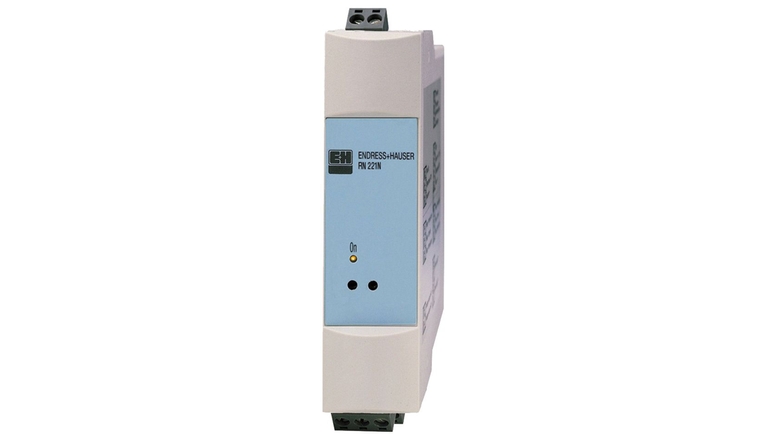 Active barrier with power supply for safe separation of 4...20 mA current circuits
The active barrier RN221N supplies e.g. a transmitter with power, if required also in the Ex-area, and then transmits the galvanically isolated signal. With the optionally available HART® monitoring the status of the transmitter is monitored. If an error arises a relay at the RN221N sends an alarm. The relay has to be actively set back. Thus even just briefly occurring errors can be easily located.
En överblick över specifikationer

Input

Output

Power Supply
Snabbval
Välj från de föreslagna alternativen
Individuell konfigurering
Fortsätt välja från alla tillgängliga alternativ
Fördelar

Wide range power supply, flexible power source

Compact side by side DIN rail housing

International Ex approvals; marine approval

Bidirectional HART® transmission. Communication sockets for HART® sensor setting up. Evaluation of status information from...
Applikationsområde

Galvanic isolation of 4 to 20 mA current circuits

Removing large loop circuits

Powering 2 wire transmitters

Monitoring of SMART transmitters with early-warning system

Intrinsically safe sensor supply for Ex-area
Dokumentation / manualer / programvara
Technical information Active barrier RN221N

Active barrier with power supply for safe separation of 4 ... 20 mA
current circuits

Betriebsanleitung /Operating Instructions RN221N HART Diagnose

Speisetrenner RN221N mit Hilfsenergie zur sicheren Trennung von 4...20
mA Normsignalstromkreisen mit HART Diagnose
Active barrierRN221N with power supply for safe separation of 4...20
mA current circuits with HART diagnosis

Operating instructions RN221N

Operating instructions active barrier RN221N
(VALID FROM 22.11.2000 to 02.12.2001)

RN221N Brief Operating Instructions

Active barrier with power supply for safe separation of 4...20 mA
current circuits

Short Instruction (KA)

06/16

Active barrier

RN221N
JPN: [Ex ia] IIC

Ex Säkerhetsinstruktioner (XA)

RN221N

[Ex ia Ga]IIC

Ex Säkerhetsinstruktioner (XA)

Active barrier [Ex ia Ga] IIC Safety Instructions

Safety instructions RN221N EAC [Ex ia Ga] IIC

Ex Säkerhetsinstruktioner (XA)

RN221N ATEX: II (1)GD [Ex ia] IIC Safety Instructions

Safety instructions for electrical apparatus certified for use in
explosion-hazardous areas.

Ex Säkerhetsinstruktioner (XA)

Control Drawing FM RN221N

Installation Notes for hazardous locations for Active barrier RN221N

Control Drawing CSA IS, NI RN221N

Active barrier RN221N
Installation Notes for hazardous locations

Functional safety manual RN221N

Functional safety manual for Active barrier RN221N

Specialdokumentation (SD)

Componenti di sistema e data manager

Soluzioni per il completamento del punto di misura

Portfolio Overview System products and data manager

Products and Solutions for completion of the measuring loop

Sistem Bileşenleri ve Kayıt Cihazları

Sisteminiz için tamamlayıcı çözümler

Verksamhetsområden (FA)

10/14

Системные компоненты и Регистраторы

Обзор продукции

Verksamhetsområden (FA)

06/13

Componentes de sistema y registradores

Soluciones para el lazo de control
Indicadores, dispositivos de interfaz, protección contra sobretensiones,
gestores de aplicaciones y energía, registradores sin papel y paquetes
de software asociado para la automatización de procesos.

Verksamhetsområden (FA)

05/20

System Components and Data Managers

Solutions for the loop
Indicators, interface devices, surge arresters, energy and application
managers, data managers, paperless recorders and associated
software packages for process automation

Verksamhetsområden (FA)

04/18

System Components e Data Managers

Componenti di sistema e data manager
Soluzioni per il completamento del punto di misura

Verksamhetsområden (FA)

04/18

Komponenty Systemów kontrolno-pomiarowych

Wskaźniki panelowe i obiektowe, zasilacze, bariery,
przetworniki sygnałów procesowych, ograniczniki przepięć
oraz przemysłowe liczniki ciepła i przepływu.

Verksamhetsområden (FA)

03/10

System Products and Data Managers

Solutions for the loop
Indicators, interface devices, surge arresters, energy and application
managers, data managers, paperless recorders and associated
software packages for process automation

Verksamhetsområden (FA)

02/20

Systemprodukte und Datenmanager

Lösungen zur Komplettierung der Messstelle
Anzeiger, Interfacegeräte, Überspannungsschutz, Energie- und
Applikationsmanager, Datenmanager, Bildschirmschreiber und
Softwarepakete für die Prozessautomatisierung

Verksamhetsområden (FA)

02/20

Produits système et data managers

Solutions associées

Verksamhetsområden (FA)

01/19

application: two wire sensors needed for operating in flammable gases or dust mixtures.

RN221N is a FM certified active intrinsically safe barrier and power
supply

Aluminium Laufen AG Intelligente Wärmerückgewinnung

Um Prozesswärme optimal zu nutzen und damit die Energieeffizienz zu
steigern, entwickelte Endress+Hauser gemeinsam mit Aluminium Laufen
AG ein modernes Steuerungskonzept.

Aluminium Laufen AG Intelligent heat recovery

In order to optimise the use of process heat and to increase energy
efficiency, Endress+Hauser developed jointly with Aluminium Laufen
AG a modern control concept.

Radar level measurement in narrow storage cells

Park & Bellheimer AG optimizes logistic procedures with
state-ofthe-art radar level
instrumentation

Caso de éxito: Bellheimer Brauerei Medición de nivel radar en silos estrechos

Park & Bellheimer AG optimiza la logística con instrumentación de
nivel radar sin contacto

Mesure de niveau par radar dans des cellules de stockage étroites

Park & Bellheimer AG optimise ses procédures logistiques avec des
radars de mesure de
niveau ultra modernes

FDA proposes to allow the use of alternative temperature indicating devices

TMT162, TH15 and RN221N with Mercury in Glass (MIG) Thermometer
Replacement for processing low-acid canned foods

E-direct Produktcatalogus 2018-2019

High quality, low price

Endress+Hauser Kataloger (EG)

10/18

Catalogue Produits E-direct 2019/2020 Français

La qualité Endress+Hauser à petit prix !

Endress+Hauser Kataloger (EG)

09/19

E-direct Produktkatalog 2019/2020

Hohe Qualität zum kleinen Preis!

Endress+Hauser Kataloger (EG)

06/20

Active Barrier RN221N

1 Transmitter power supply unit for two-wire instruments without power
supply intrinsically safe power supply [EEx ia] IIC

Speisetrenner RN221N

Messumformerspeisegerät für Zweileitergeräte ohne Hilfsenergie

power supply and barrier

Produktkod: RN221N-
Deklarationsnummer: HE_00448_01.17
illverkaren Specifikation: RoHS

Soliswitch, process displays, Preline, power supply and barrier, power supply, over voltage protector, Mini-Log, Memo-Graph, Ecograph, controller, contactors / transmitters, Configuration Kit

Produktkod: RIA452-, RIA452L-, RIA46-, RID14-, RID16-, RMA42-, RMC621-, RMC621L-, RMS621-, RMS621L-, RN221N-, RN221NL-, RNB130-, RNS221-, RNS221L-, RS33-, RSG35-, RSG40-, RSG45-, RTA421-, RTA421L-, TXU10-, RIA45-, FML621-, FTE20-, FTE30-, FTE31-, HAW562-, HAW569-, OFTE20-, ORIA15-, ORIA45-, ORIA46-, ORMA42-, ORSG35-, ORSG45-, OSG40-, OSG45-, RA33-, RB223-, RDL10-, RH33-, RIA14-, RIA15-, RIA16-
Deklarationsnummer: EC_00569_01.17

power supply and barrier

Produktkod: RN221N-
Deklarationsnummer: EC_00319_01.16

power supply and barrier

Produktkod: RN221N-
Deklarationsnummer: EC_00158_01.16

power supply and barrier

Produktkod: RN221N-
Certifieringsorgan: EAC
Godkännande, Nr.: BY 11211.01.TP004 003 04735

power supply and barrier

Produktkod: RN221N-
Region: Russia (Declaration of Conformity), Russia (TR CU)
Certifieringsorgan: EAC
Godkännande, Nr.: RU D-DE.MO10.B.06143

power supply, power supply and barrier

Produktkod: RN221N-, RNS221-
Region: China
Certifieringsorgan: ACMA
Godkännande, Nr.: MD-17036A/09/EN

power supply and barrier

Produktkod: RN221N-
Region: Japan
Certifieringsorgan: JPN

power supply and barrier

Produktkod: RN221N-
Region: Europe (ATEX)
Certifieringsorgan: PTB
Kategori: II (1) GD
Skydd: [Ex ia] IIC

power supply and barrier

Produktkod: RN221N-
Region: USA
Certifieringsorgan: FM
Kategori: I,II,III/1,2/ABCDEFG
Skydd: ANI, AIS, AEx [ia] IIC

power supply and barrier

Produktkod: RB223-, RN221N-
Region: Russia (TR CU)
Certifieringsorgan: EAC
Skydd: [Ex ia Ga]

power supply and barrier

Produktkod: RN221N-
Region: USA, Canada
Certifieringsorgan: CSA
Kategori: I,II,III/A,B,C,D,E,F,G
Skydd: [Ex ia] IIC, GP

power supply and barrier

Produktkod: RN221N-
Region: International (IECEx)
Certifieringsorgan: PTB
Skydd: [Ex ia] IIC

power supply and barrier

Produktkod: RN221N-
Region: Brazil
Certifieringsorgan: TÜV
Skydd: [Ex ia Ga] IIC

power supply and barrier

Produktkod: RN221N-
Region: International
Certifieringsorgan: DNVGL
Tillbehör / reservdelar
Set, 10x fixing lever housing

for RMA42x/RMx621/RTA421/RN221N/TMT12x

The unit is not repairable