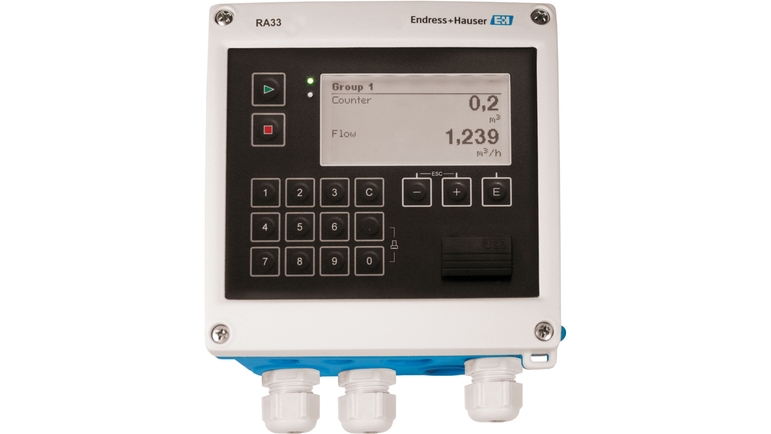 Recording and controlling of batch operations
The Batch Controller RA33 is designed to record flow and control output signals for valves and pumps to ensure the exact dosing of predefined batch quantities. The measured volume can be corrected with the temperature/density compensation function. The filling process can be optimized with an automatic or fixed after-run correction. Mineral oils can be corrected according to the ASTM D1250-04 standard.
Snabbval
Välj från de föreslagna alternativen
Individuell konfigurering
Fortsätt välja från alla tillgängliga alternativ
Fördelar

Fixed and automatic after-run correction for constant, extremely accurate results

Higher quality through fast and exact dosing

Optional volume correction for mineral oils as per ASTM D1250-04

Detailed logging of protocols (preset counter, volume counter,...
Applikationsområde

Recording and controlling of batch operations. Typical applications include:

Food industry

Chemical industry

Pharmaceutical industry

Oil & gas industry
Dokumentation / manualer / programvara
Tillbehör / reservdelar
RH/RS/RA33 pipe mounting set

RH/RS/RA33 mounting set wall

Terminal strip 3 pole FMC1,5/3-ST-3,5

for digital I/O and RS485

Nr

3

Order code

XPR0001-CB

Cover electronic internal for RA33 incl. screws (for Mainboard + CPU card)

Nr

4

Order code

XPR0001-SP

Small parts set: hinge pin, pressure compensation element, USB-cover, seal panel

Nr

2

Order code

XPR0001-UT

Housing lower for Rx33 incl. counter plate (please order name plate separately with DIENST-T)

Nr

8

Order code

XPR0001-KA

Nr

8

Order code

XPR0001-KB

Communication board USB + Ethernet + ModBus TCP

Nr

8

Order code

XPR0001-KC

Communication board USB + ModBus RTU (RS485)

Nr

8

Order code

XPR0001-KE

Communication board USB + RS232 (for RA33)

Field Data Manager Software MS20

Visualization software and database for visualization of historical data like measured values, calibration or configuration. Manipulation protected SQL database, graphical visualization, tables for measured values, alarms or events, online help, user administration, Automatic read out of device data. Automatic data export in various formats or in secured format for backup or reduction of database. Note: The version FDM essential only supports RSG30, RSG35, RSG40 as well as RSG45 and has a restricted functionality.