Manual or automatic retractable assembly Cleanfit CPA473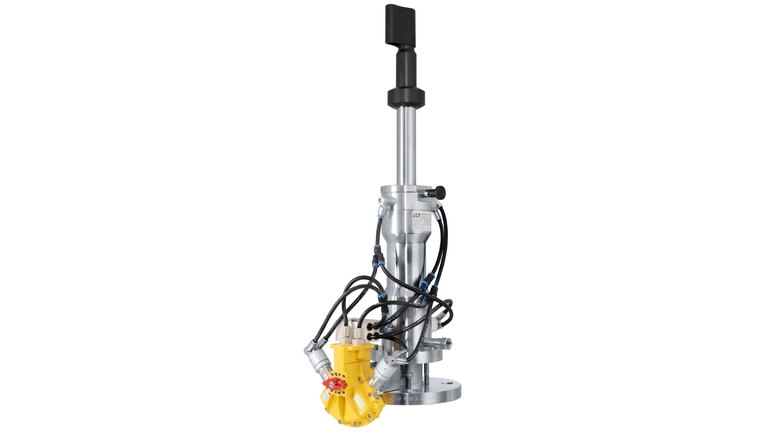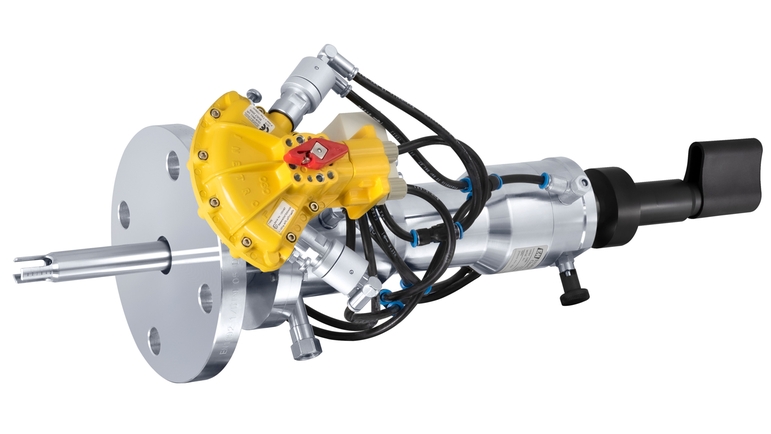 Assembly with ball valve for the chemical, paper, and wastewater industries
The Cleanfit CPA473 retractable assembly is designed for application in fibrous or sticky media. Its patented sleeve seals and integrated scrapers make sure that nothing sticks to the sensor. Cleanfit offers highest operating comfort: You can replace sensors and even service the assembly while the process is running. The optional electric or pneumatic control system enables automated cleaning and calibration even in difficult processes.
Snabbval
Välj från de föreslagna alternativen
Individuell konfigurering
Fortsätt välja från alla tillgängliga alternativ
Fördelar

Safe and reliable separation from the process by ball valve, even under harsh conditions

No process interruption for electrode cleaning and calibration – saves maintenance time and costs

Extended operating life of electrodes due to automatic cleaning

...
Applikationsområde

Cleanfit CPA473 is intended for use in tanks and pipes in:

Chemical industry

Paper industry

Wastewater / industrial water

Power plants

Refuse incinerators

It is suitable to be used with pressures of up to 10 bar (stainless steel cylinder) or 6 bar (PA...
Dokumentation / manualer / programvara
Tillbehör / reservdelar
KIT CPA473 retractable pipe short versio

KIT CPA473 electr. guide long

KIT CPA473/474 cylinder PA short

KIT CPA473/474 cylinder PA long

KIT CPA47X: Throttel check valve

KIT CPA471 long+474 short: Cylinder SS

KIT CPA473/474 cylinder 1.4404 long

Kit CPA473 rinsing chamber

Kit CPA47: intermediate flange ball valv

KIT CPA473/474: Rinse nozzle G1/8-G1/4

KIT CPA473/474: Rinse nozzle G1/8-NPT1/4

Outlet valve pneumatic CPA473 G1/4"

Outlet valve pneumatic CPA473 NPT1/4"

Kit CPA47x Outlet valve: O-rings Viton

Outlet valve manual CPA473/474 G1/4"

Outlet valve manual CPA473/474 NPT1/4"

Check valve CPA473/474 G1/4"

Check valve CPA473/474 NPT1/4"

Kit CPA473 pneumatic drive complete

Kit CPA473 drive cpl. pneum. / electr.

Kit CPA473, KCI pipe pneumatic

Kit CPA473 KCl-pipe manual

KIT CPA471/472 shaft pneum long

KIT CPA471/472 lift tube gel hand long

KIT CPA473/474 pneum. re.pipe gel 360mm

KIT CPA473/474 manual, re.pipe gel 360mm

Pneum. proxim. switches f.retrofitting

KIT CPA473/474: Electr. proxim.switches

KIT CPA47x:stop bolt with handle (1 pc.)

Kit Sensor output interface

O-Ring set EPDM for CPA473 >05/05

O-Ring set Viton for CPA473 >05/05

O-Ring set Kalrez for CPA473 >05/05

CPA471...5 all seals w/o medium contact

Splash protection cap for assemblies

KIT CPA47x pneu.connection G1/8 AD6 10p

CPA473 Seals w.media contact EPDM >10/07

CPA473 Seals w. media contact FPM >10/07

CPA473 Seals w.media contact KALRE>10/07

CPA473 EPDM: Scrapers f.ball valve>10/07

CPA473 FPM: Scrapers f.ball valve>10/07

CPA473 KALRE: Scrapers f.ballvalve>10/07

CPA473 EPDM: Sealing bush Variseal>10/07

CPA473 FPM: Sealing bush Variseal>10/07

CPA473 KALREZ: Seal. bush Variseal>10/07

Kit CPA473: Flange DN50 1.4404 acc. DIN

Kit CPA473: Flange ANSI 2" 1.4404

Kit CPA473: Sleeve short PEEK/EPDM

Kit CPA473: Sleeve short PEEK/Kalrez

Kit CPA473: Sleeve short PEEK/Viton

Kit CPA473: Sleeve long PEEK/EPDM

Kit CPA473: Sleeve long PEEK/Kalrez

Kit CPA473: Sleeve long PEEK/Viton

Kit CPA473/474: Connection block pneumat

Order code

CPA473_Übersich