Calibration tool for conductivity sensors
Conducal CLY421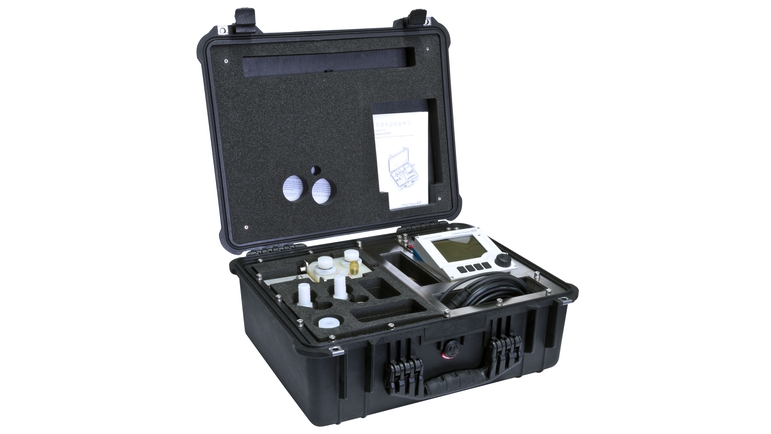 Portable reference calibration for ultrapure water applications
Conducal CLY421 is the ideal calibration tool for conductivity measuring devices in ultrapure water applications. It offers certified comparison measurement and full traceability of your instruments' verification and calibration. Furthermore, the tool is fully compliant with the requirements of the pharmaceutical industry. Conducal comes in a robust, portable hard-top case with battery-powered Liquiline transmitter, allowing flexible calibration in the field.
Snabbval
Välj från de föreslagna alternativen
Individuell konfigurering
Fortsätt välja från alla tillgängliga alternativ
Fördelar

Factory calibration traceable to standard reference material by NIST and DAkkS

Factory calibration of Conducal according to ASTM D-5391

Flow assembly with adjusting and monitoring functions according to ASTM D-5391

Accurate calibration by direct use of...
Applikationsområde

Conducal CLY421 is a portable calibration and verification tool for quality-relevant conductivity measurements. It is suitable for all ultrapure water applications up to 20 µS/cm:

Life science industry

Food industry

Semiconductor industry

Its...
Dokumentation / manualer / programvara
Tillbehör / reservdelar
For further repair or spare part inquiries

please contact your local

E+H Sales- and serviceorganisation

Kit CLY421: Adapter Threaded/Clamp/Barb

Kit CLY421: Adapter G1"/Clamp

Kit CLY421: 3x Blind Cap + 10x O-Ring

Kit CLY421: 3x Clamp Gasket EPDM DN20

Kit CLY421: 4x Protection Covers Bulgin

Kit CLY421: Charger for Li-Ion Battery

Flow through armature 316L;NPT1/2",CLS15

polished, Connector medium: vertical/horizontal 6mm pipe